Meet your eye care team
Dr. David Mitchell
While "Dr. Dave" Mitchell treats patients of all ages, he is one of the only pediatric eye care specialists in the area, and is only eye doctor in the area providing vision therapy. Dr. Mitchell also has extensive training in the treatment and management of ocular disease, including glaucoma, macular degeneration, and ocular trauma.
Dr. Dave is originally from Poquoson, VA, and completed his undergraduate education at the College of William and Mary in Virginia. Dr. Mitchell received his Doctor of Optometry degree from Southern College of Optometry, in Memphis, TN, where he met his wife, Lisa (a Thibodaux native). Dr. Mitchell has been proud to call Thibodaux home since 2006.
He is a member of the American Optometric Association (AOA), the Optometry Association of Louisiana (OAL), and the College of Optometrists in Vision Development (COVD). Dr. Mitchell provides no-cost eye examinations to any patient under the age of one as part of the national Infantsee eye care initiative. In his (very limited) spare time, he enjoys hiking, coaching and playing soccer, and spending time with his family.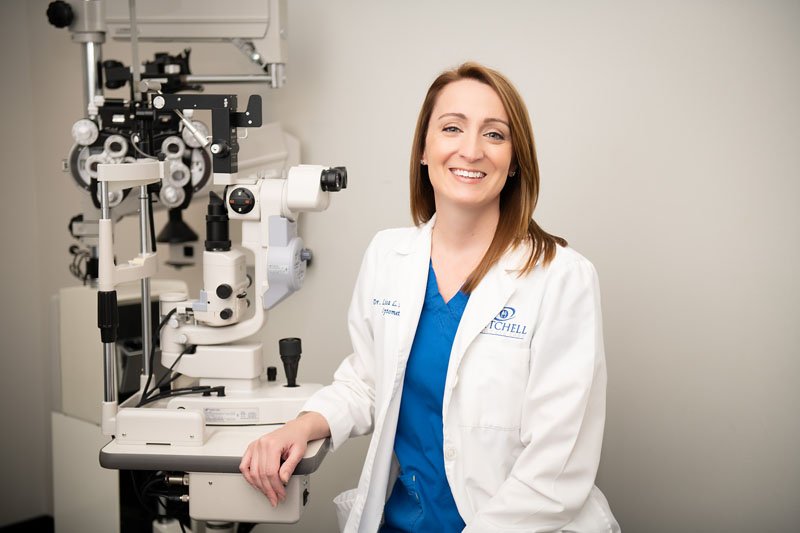 Dr. Lisa Mitchell
Dr. Lisa has extensive training and experience fitting contact lenses, even on hard-to-fit cases. For over a decade she has been designing specialty contact lenses to restore the vision of patients when surgery, glasses, or traditional contact lenses have failed. Patients travel from all over Louisiana and even from neighboring states seeking Dr. Lisa's expertise.
In addition, Dr. Mitchell is skilled in ocular disease and in ocular-systemic disease diagnosis and treatment. Her expertise in treating and managing glaucoma, diabetic complications, macular degeneration, trauma, and eye infections has been invaluable to our community.
Dr. Lisa is originally from Thibodaux, and completed her undergraduate education at Nicholls State University. Dr. Mitchell earned her Doctor of Optometry degree, graduating summa cum laude from Southern College of Optometry, in Memphis, TN, where she met her husband, Dr. Dave.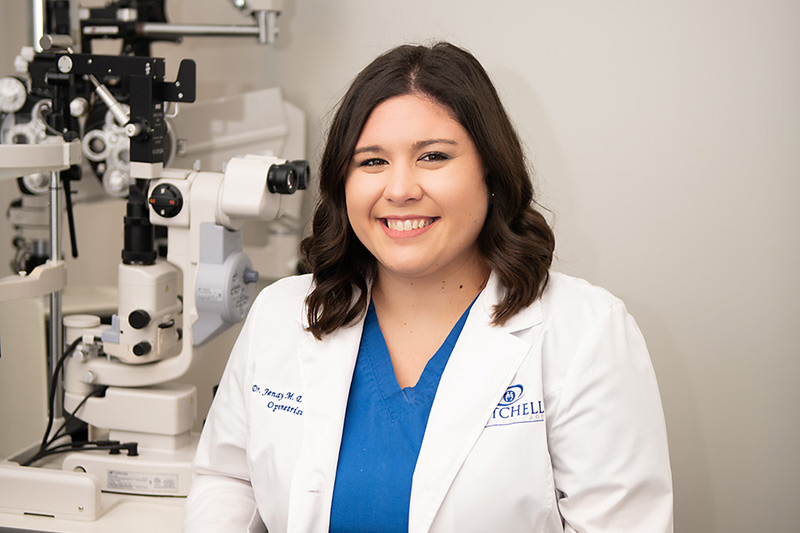 Dr. Jenaye DeRoche
Dr. DeRoche practices full-scope optometry, caring for patients of all ages. Originally from Houma, she graduated from Nicholls State in 2014 and received her doctor of optometry degree from Birmingham College of Optometry at UAB in 2018. In her spare time, Dr. DeRoche enjoys hiking and traveling, and playing softball and volleyball.